Beautiful Sunroom Solutions for Residents of Plainfield, IL & Surrounding Areas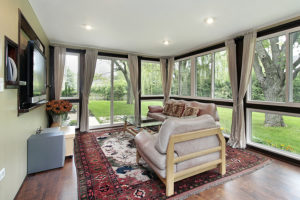 Having a sunroom installed at your home in Plainfield, Illinois, or a surrounding community, can instantly enhance the appeal of your home as well as increase your enjoyment of your backyard. Weatherseal Sunrooms & Home Solutions has been in business since 1949, and can expertly handle all of your exterior remodeling needs.
Weatherseal offers sunroom additions from the leading manufacturer of sunrooms in the industry – Four Seasons Sunrooms. Their beautiful and highly durable products are available in a wide variety of styles to perfectly suit your home in Plainfield, IL, or a surrounding area. These styles include:
Straight roof studio sunrooms
Curved roof studio sunrooms
Cathedral sunrooms
Conservatories
And more
Furthermore, our products are available in a number of different materials to choose from that all have their own advantages. You can choose from a sunroom made of wood, vinyl, or aluminum. And, if you're still not quite sure what style or material will look best at your home, our team will photograph your house and show you a rendered image of what your home will look like after the installation is complete. This will allow you to rest assured you are selecting the right sunroom for your home.
For more information about the impressive sunroom options that we can install for homeowners in Plainfield, IL, and all surrounding areas, contact Weatherseal Sunrooms & Home Solutions today. Feel free to ask about convenient financing options available to all who qualify.