Aesthetically Appealing Sunroom Options Available to Homeowners in Orland Park, IL & Surrounding Areas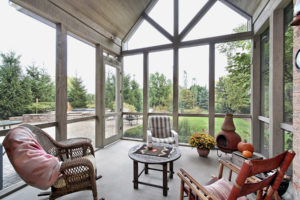 Having a sunroom installed at your home in Orland Park, Illinois, or a surrounding Chicagoland community is an easy way to help you get the most out of your backyard space. In business since 1949, Weatherseal Sunrooms & Home Solutions is the best company to turn to for your exterior remodeling needs.
We offer sunroom additions from one of the leading manufacturers in the industry – Four Seasons Sunrooms. Their products are known for creating an aesthetically pleasing design for each particular home, making them the best choice for your home in Orland Park, IL. Our products are constructed from a number of different materials, including:
Additionally, our sunroom products are available in a large selection of styles, including curved, cathedral, straight, and conservatory. And, while the selection of which style you want for your home can be a big choice, we have invested in technologies to make it just a little bit easier. Our team will photograph your home and show you a rendering of what the finished project will look like to help you choose which sunroom is right for you.
For more information about the durable and aesthetically appealing sunroom additions available to residents of Orland Park, IL, and the surrounding areas, contact Weatherseal Sunrooms & Home Solutions today. Make sure to ask about our financing options available to all homeowners who qualify.