Structurally Sound Sunroom Options Available to Homeowners in Homer Glen, IL & Surrounding Areas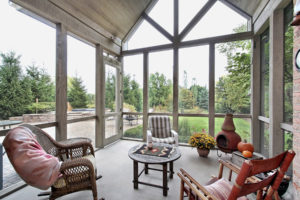 If you're looking for the best quality sunroom selection available to residents of Homer Glen, Illinois, and the surrounding Chicagoland communities, look no further than Weatherseal Sunrooms & Home Solutions. We have been in business since 1949, and have proudly provided residents of the area with beautiful and highly durable sunrooms that enhance their outdoor living spaces.
The sunroom selection offered by Weatherseal Sunrooms & Home Solutions to residents in Homer Glen, IL, is fabricated by one of the leading manufacturers in the industry – Four Seasons Sunrooms. Their highly impressive products are available in a wide variety of styles including straight eave sunrooms, conservatory, cathedral, curved roof, and more. What's more, you will be able to select from a variety of sunroom materials that each bring their own unique advantages, including:
Furthermore, when you decide to purchase a sunroom, it can be hard to know what style is going to work for your home. That is why our team has utilizes a software that allows us to photograph the exterior of your home and render an image of what your home will look like once the project is complete. This takes all of the guesswork out of the process and ensures that you will be satisfied with the final result.
For more information about the sunroom selection that we can offer to homeowners in Homer Glen, IL, and all surrounding communities, contact Weatherseal Sunrooms & Home Solutions today. Make sure to ask about our impressive financing options available to all who qualify.