Beautiful Sunroom Additions for Your Home in Channahon, IL, or a Surrounding Area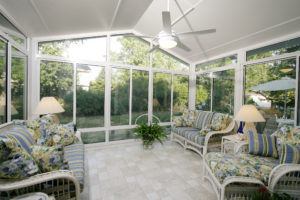 If you've ever considered adding a sunroom onto your home in Channahon, Illinois, or a surrounding community, contact Weatherseal Sunrooms & Home Solutions today. Since our founding in 1949, we have helped countless homeowners find sunroom and other home exterior remodeling solutions that work for them. We are confident that our products will help you make the most out of your backyard space while also adding extra space to your home itself.
Weatherseal Sunrooms & Home Solutions utilizes one of the leading sunroom manufacturers in the industry – Four Seasons Sunrooms. Through them we are able to offer aesthetically appealing and highly durable sunrooms that will last for years to come. And, the options are unlimited when it comes to our sunroom selection. Some of the styles we have available for your home in Channahon, IL, or a surrounding area include cathedral, conservatory, straight eave, and curved roof. Once you decide on which style looks best for your home, you will be able to select the material used to create your new space. Our products are constructed from:
Aluminum
Wood interior
Vinyl interior
Deciding which style and materials are the right choice for your new sunroom may sound like a daunting task, but thanks to our team's unique rendering technologies, we will make it simple for you. We will take photographs of the current exterior of your home and render onto that image what your new sunroom will look like once the project is complete.
For more information about the sunroom additions we can provide to homeowners in Channahon, IL, and the surrounding areas, contact Weatherseal Sunrooms & Home Solutions today. Make sure to ask about our convenient financing options available to all homeowners who qualify.