Patio Enclosures Are an Excellent Upgrade for Your Home in Tinley Park, IL, or a Surrounding Area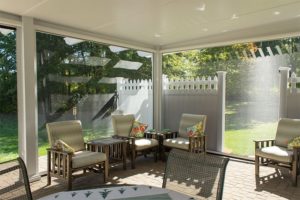 Patio enclosures are an excellent home upgrade for residents of Tinley Park, Illinois, and surrounding areas. Homeowners in the area can turn to the experts at Weatherseal Sunrooms & Home Solutions for a sturdy enclosure that will make it easier to entertain guests or simply relax in your backyard.
At Weatherseal Sunrooms & Home Solutions we proudly offer two distinct styles of patio enclosures to homeowners in Tinley Park, IL, including:
Screen rooms – Our screen rooms are made to hold up well against wind, heavy rains, and all other elements that Mother Nature has in store. And, they are available in a wide variety of styles with decorative columns and beams.
Sunrooms – Our sunrooms are made with either aluminum, wood, or vinyl framing and are completely customizable. In fact, we offer up to 16 models of sunrooms to perfectly match the aesthetic of your home.
Additionally, our screen room patio enclosures are made to be easily converted into a sunroom down the line should your needs ever change. Our team can come back to your home and simply add glass to the structure and your screen room will be upgraded to a beautiful sunroom addition.
For more information about the patio enclosures that we offer to homeowners in Tinley Park, IL, and the surrounding areas, contact Weathereal Sunrooms & Home Solutions today. A knowledgeable member of our team will happily answer any questions you may have about our products and services.